Libby digs it. In my next life, when I'm independently wealthy and can afford a condo in Chicago, NYC or L.A., she'll fit right into the urban pace, a.k.a., nine walks per day.
Seriously. That's how many times I had to take her outside to convince her that it was indeed okay to unleash her innards. I understand, humans get kinda blocked on the road too, or so I've heard. She got it, eventually, like seven blocks from the condo. But what she really thought was that I was being extraordinarily generous in allowing her to sniff at every front stoop, every flower bed and alley of the Lakeview area of Chicago.
It's been lovely here. The lake effect was in full effect; slightly breezy, low humidity, perfect weather for multiple, (emphasis on multiple) walks around the neighborhood.
AND, (talk about burying the lead story, an old TV news term) we went to her first EVER dog beach! Montrose Harbor Dog Beach was an alternately thrilling and nail-biting experience.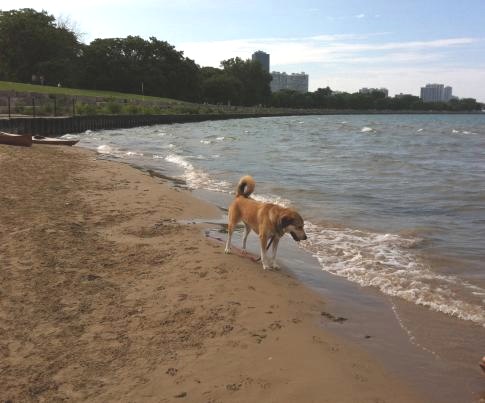 Libby ran like crazy in the sand, cavorting with all likes of canine, then trotted toward the south end of the dog beach, where the fence doesn't go all the way to the water, and I was scared to death she'd bolt through the open space and head for Mexico, looking for chicken bones in the sand and trying to get a pat on the head from every human ON the beach, cause Lord knows Libby gets her lovin' on the side.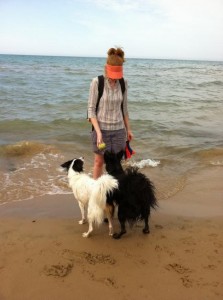 She'd never been near a lake. Ridiculous, I know, for a four-year-old dog, but this is what happens when Mom keeps her nose to the grindstone. She didn't go all the way in, just dipped her paw in and was quite social with a lady named Celeste and her two dogs Izzie and Ronzie.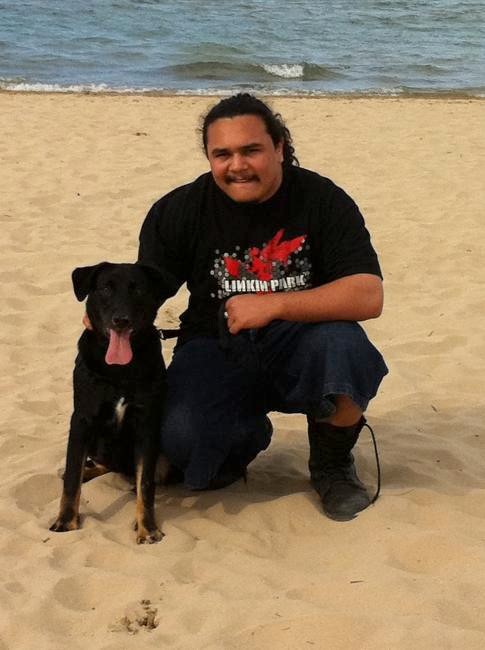 Celeste's favorite dog park is in Los Alamos, NM, my home state and I hope it didn't burn up in recent forest fires there.
And Lib cozied up to David, the security guard, and his puppy Ribs. They're both pretty cute, don't ya think?
Kids are like dogs. They introduce us to some of the nicest people. Some of my life-long friends have been formed through hook-ups at the soccer field, Little League, front-porch pick-ups after a sleepover or an 8th grader wanting me to haul his ass all the way from St. Louis to Dallas for a guitar festival, which I did. He ended up in the Eric Clapton Crossroads video with his friend Nick and Nick's mom became my very close friend. 100-degree heat and ZZ Top with a Texas lightning storm brewin' nearby tends to forge lasting friendships.
And so it was with Chicago. I stayed with friends who are the parents of my son Patrick's best friend, Joe. Joe is Pat's home boy to the core. They were inseparable in high school — similar in size, mannerisms, degree of irresponsibility. Although I dunno, Pat might have been a tad bit worse, but then Joe had a Major living in his house. I, of course, was divorced, a.k.a. "pushover" half the time, (a girl gets tired) but Joe's one of these kids who comes from the real-deal family — two great parents, who were highly engaged with their kids, and by golly, people like them! They turned out great.
Pam and Bob moved to Chicago from St. Louis just this past spring. Bob's got tons of family here and lots of family traditions. Even with them being in the military in the kids' younger years, Bob and Pam only missed the "Chicago Thanksgiving" like four times out of 28 years of marriage. It's that football game they play on Thanksgiving, scores to settle, I suppose.
Now they're here permanently. Son Joe went to culinary school here and has a good job as a line chef with a prestigious restaurant group. Daughter Allie remains in St. Louis, for now.  The new condo is absolutely fab, in the heart of the city, within walking distance to Wrigley Field.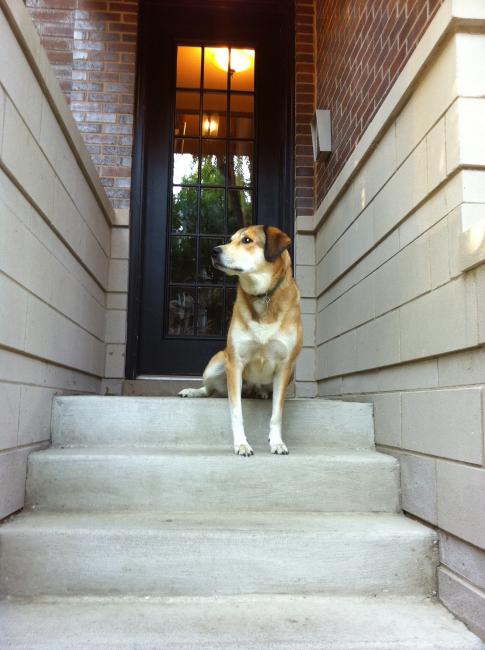 Being with them these past two days is a study in how to get it right. Once the kids were launched, Pam and Bob sold their fabulous old house in Webster Groves, corner lot, wrap-around porch, lots' o' lawn cutting in the summer. I cannot tell you how many times I had to go over there to roust Pat from a sound sleep at the crack of noon, to get his lazy ass off the porch to come home and cut OUR grass. But their house was the place the kids wanted to be, good stuff in the fridge and good sleeping in the summer, out on the veranda. In many ways, they were a wonderful source of support to me as a single mom. They kept their sense of  humor. And went to church. In fact, that's where Pam and Bob met, at church choir.
I know they had their moments with their kids, we all have. I think we all look back and wince over those out of control times, like me screaming over the phone at 3 A.M. "Where in the hell are you????" (I never used the "f" word when they were growing up, tried to maintain some degree of decorum, now, not so much).  I know Joe and Bob locked horns many a time, Pat would say Bob was tough on Joe, he was, after all, retired military, compared to me, I suppose anybody would have seen tough. It breeds discipline. It made Joe a disciplined and focused young man. Last night father and son shot pool up at the corner restaurant. The night before, they were waxing poetically over Joe's new knives and the pinot noir Bob opened for dinner. They are a unit, man. It is a beautiful thing.
Are you ever around people who just lift you up? Two people who've been married for close to 30 years who still love each other and treat each other with respect and affection? Two kids who are thoughtful, conscientious, intelligent, productive, compassionate contributing members of society? That's what we're supposed to do as parents, right?
Pam and I said goodbye out on the sidewalk this morning. I told her how proud I was of Joe, how solid he is, what a great young man he's turned out to be. She said, "I think we've turned out some pretty good kids, Jean. WE, as in all our kids." And I had to agree, I've got a passle who I'd put up against anybody else's kids any day of the week.
Sometimes though, it was dicey.
"We had some bumpy moments," she added, with a wistful and now brave new emphasis. "But you know, life gives you speed bumps, we just have to get around them."
We hugged and she took off for her doctor's appointment. She starts chemo next week.
Right about the time they were making their move to Chicago, to start their new life, in a new town, in their beautiful condo, she was diagnosed with breast cancer. They found it early. Her prognosis is good. We all know the miracles of early detection and treatment for breast cancer. It's a devil, that cancer. How many of us have it snarling from the corner in our homes and in our families? Time to add another name to the highway prayer list.