My brother Garrett would have been 61 years old today. That blows my mind, sixty-one ? You know what I'm talking about.
What is more sobering is that come November 21st it will be ten years since his passing. Ten years?
The "decade of disaster" as I've affectionately referred to it was ushered in with a phone call informing me of his death, followed by another phone call, just a few days later, that my former husband was in a shit load of trouble with the law, for which, he would not be free, quite literally for nearly eight years. In the ensuing years, my little band of survivors and I, lost  two more family members and had some ups and downs on the economic scale, most of it down.  Whatcha gonna do?
Write a book.
ARVE Error: id and provider shortcodes attributes are mandatory for old shortcodes. It is recommended to switch to new shortcodes that need only url
I am humbled, tearful and grateful for everyone who has shown a flicker of interest in my tales of woe and "well, I'll be damned!" which was rolled out in Off the Leash: Road Stories With My Dog  last summer and I am enormously proud to say the book, Off the Leash: A Woman, Her Dog and the Road Trip of a Lifetime is finished and will soon be coming out electronically and then in print in a few short weeks. Starting today, I will be posting short (I promise, seriously) updates on this continuation of the journey and how I move from writing, to written and, "OMG I hope these fuckers sell!"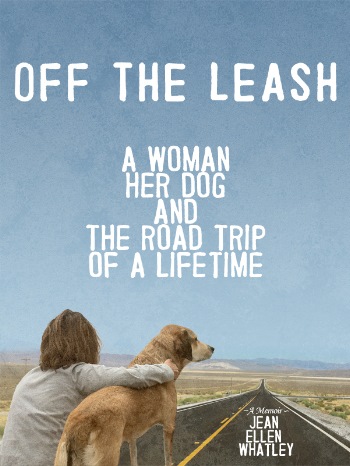 But let me tell you the rock-bottom, solid truth. I don't care if nary a single, solitary copy sells because I wrote it to honor my mother, my brothers, my children and my dog.
Oh, and I wrote it to share a little speck of this thing we call the human condition. A friend of mine asked me yesterday, as I move into full-tilt marketing, trying to figure out how in Sam Hill to distill a 265-page manuscript into a concept readers can wrap their Kindles around, he was asking me what the big life lessons are? How did this trip change my life? What's in it for readers? You know, all those pesky USPs one has to consider. (Unique Selling Proposition) — and it's not like I haven't thought about it, Lord knows I have. But it forced me, once again to bottom line it.
It's about freedom – freeing ourselves from thinking our lives are predestined to be hard, or sad, or screwed up. It's about following your gut to take care of what you need, regardless the risk. Last, it's about our connection to other people and how precious little time we have to tell them we love them or thanks for the hamburger; sometimes in the same breath.
But today, it's all about my brother Garrett. I loved him very much, I miss him every day. Here's an excerpt from the book —
Chapter Seven: When You're Feeling Low, Buy a Cowboy Hat.  It takes place in Ft. Worth, Texas, and talks a little bit about a big brother who'd allow his little sis to help him with his asthma.
It wasn't fair he suffered like that, even though he could be as mean as cat shit to me during the day, and often was. He teased me, unmercifully, about being chubby. He called me Rotunda. Seriously. He made fun of me in front of his buddy Paul Ellis, whom I had a mad crush on, saying things like, "Jeannie, leave us alone. Go try on your new Spanky bra, although it's not like you need one." I was mortified! What sixth grade girl wouldn't be?

When Garrett and I would play pop flies and grounders, he would magnanimously bat left-handed, ostensibly to give me a break on how far he could hit the slow pitches I'd lob over the pie tin.  Even with that, he'd consistently knock them over the backyard fence and I'd have to chase the ball down the alley for half a block. Once I'd  trotted my chubby butt back up the stinky alley, and it was my turn to bat, he'd quit. "It's too hot to play now."

The heat made his asthma worse, especially at night. In the dark, when everybody else in the house was asleep except him and me,  he was no longer my tormentor, he was simply my suffering, defenseless big brother and I just wanted him to breathe. Finally, the syrupy red asthma medicine or the inhaler would kick in, and one long, thready breath at a time, the rattling in his lungs would begin to subside. His breathing would come easier, sounding less like a vacuum attachment on upholstery and more like a skinny boy drawing a deep breath. Sometimes, it took hours. My mom, who was a teletype operator at the airport by now, a good, government job, would come home from her night shift and find him asleep, sitting up, his arms still propped on his knees. Other times, once his breathing was restored, I'd go in and tell him to lay down, tipping him over gently, tucking his legs under the sheet and he'd let me cover him up, his uncharacteristic obedience, disquieting.
Garrett died from an acute asthma attack in San Francisco on November 21, 2002. There was nobody with him when he died. But let me tell you something, even though he would have loved to stick around, he did not begrudge his fate. He did not take life for granted. "Any day you wake up and you're not in a ditch is a good day," he'd say with the voice of someone who's probably rubbed sand out of their face a time or two.
On some down days, as I've been writing this book, and seriously questioning my sanity, while I screen calls from collection agencies cause I quit my job to do it, I've wondered, "why in the hell am I doing this?"
Then, I got a message on my Facebook page from a woman who was involved with my brother Garrett in Wisconsin in the early '80s. They had been in love, he proposed, but it didn't work out. She said she randomly Googled his name and found my blog, with stories of Garrett from last summer. Here's what she said –
Finding your blog was a gift. Although we hadn't spoken for many years when he died, and the last time we'd written was in the early-mid '90s, I miss knowing he's out there in the world and think of him often. Thank you for writing so beautifully about him. Garrett was fun, smart, talented, funny, and too sensitive for the world in many ways.
We have these realms of connectedness which we're not even aware of. I am eternally grateful to be a conduit. This one if for you, my darling brother, God rest your precious soul.