I had disregarded them for the longest time, my Texas cousins. Not out of disrespect, nor affection, it was that blood thing.
When I learned at the age of 18 that Jim Whatley was not my biological father, something clicked off in my head — like de-certifying an election. The whole thing felt like fraud. I guess it was, really. And it's not that I held anything against my country cousins, with whom I'd grown up, over holidays and summers in Graford, Texas where my grandmother Edna, Aunt Opal and Uncle Norman lived; it's just that once I found out we weren't truly cousins, I guess I threw the whole family out with the brackish bath water.
How fortunate am I to have gotten them back.
For decades, I had longed to come home to this corner of Texas. I felt a yearning to lay my eyes on the horizon where I'd first experienced freedom; as a ten-year-old girl on a sweaty horse, alone, riding out across a pasture, past the cow tank, past shoutin' distance, out of eyesight from my Aunt Opal at the kitchen window.
Alone, a little girl, brown as a bun, the first time I had ever contemplated my relative position in the universe, a mere speck, a lone traveler on the continuum of time – it was the first occasion I recall riding comfortably in the saddle of solitude. Funny how wide-open skies and nothing but the sound of horse's hooves on red-powder earth will do that to a kid. I had dreamed of coming back here to say thanks. Too bad it was 108-degrees. Shade becomes paramount.
How much I had wanted to bring my brother Don. As the oldest, he had spent far more time out here than I had,  fishing, riding horses, shooting guns, dodging grasshoppers. There are more damn grasshoppers per square inch of dirt out here than any other place on the planet. (I have no scientific evidence to back this up.) Don was terrified of them, a funny remembrance that my cousin Benny and I both snapped on, within a very short time after seeing each other for the first time in forty-two years, give or take, forty-two years! I was fourteen, getting ready to start high school in Ft. Worth. The next year we moved to New Mexico and I had not been back since. Ridiculous. When I called to drop in on their lives after four decades, here's what my cousin Benny and his wife, Sue, said:  "Come on! We've got a spare bedroom, don't worry about the dog, we've got dogs. Come on."
Do you have any idea how this feels to a grown woman who has experienced so many heartaches, so many plot twists in my Machevalian driven, psycho-drama life so far, with so many disconnects, so many "are you shitting me?" moments, to have someone simply say, after more than forty years, "Come on!" It was the same way I felt when my friends in Winston said "come on," only more powerful. I don't know why this brings me to tears, must be my refugee complex or menopause. I was so excited at the prospect of seeing them. And of course I got the very same response from my cousin Harold, who is Benny's older brother, his place in Mineral Wells was on the way to Graford.
Libby stayed under the AC at Harold's, we jumped in his pickup and went to lunch, where of course I had chicken-fried steak, with cream gravy, fried okra, pinto beans and sweet tea. Thank God some things in life remain the same!
On the way back, I mused about the Baker Hotel, a one time grand hotel, with mineral baths and movie stars, now shuttered.
Harold shared with me he'd raised the Grand Champion Steer in 1951, and the owner of the Baker Hotel took a fancy to it. He bought it for $1500 and brought the calf up in the elevator for all the rich women to fawn over and then promptly slaughtered the steer and no doubt served it up as T-bone steaks, or rib eyes shortly after. Harold still has the framed photo of him and his calf and the ribbon hanging on the bedroom wall.
With that savory story and a Texas-size lunch under my belt, I continued northwest to Graford.
Benny and his wife Sue, have built a fabulous (emphasis on fabulous) log cabin-style home adjacent to the house I remember so vividly from my childhood. Aunt Opal's house is empty, falling apart.
Some day, Benny and Sue say they'll have to take it down, but expense  (and environmental issues, hauling off that stuff off!) is a deterrent. It's gotta be hard though, leveling your mom and dad's house, which stands like a mindful sentry on the road to your place. Gotta be hard.
Seeing them was anything but. My God, they are wonderful, wonderful people and Libby had a field day, well it was really a pasture day, with their country dogs, Pinky, Desi and Jorge. Check out this video when she discovered her first cow, up close and personal.
ARVE Error: id and provider shortcodes attributes are mandatory for old shortcodes. It is recommended to switch to new shortcodes that need only url
Benny and Sue's house is like a desert oasis — an eclectic mix of Western, African, Asian influences all melding into one of the most fascinating homes I have ever seen in my life! Everything in this house is hand-crafted by Benny or Sue. Benny's a retired Frito-Lay guy, who then bought his own Mission franchise ( like the tortilla strips) and delivered Mission products all over West Texas. Sue is a fine painter, crafter and user of all things. (This is a woman who made a table pedestal out of an old-fashioned, barrel-type washing machine!)
Their fascinating house notwithstanding, the family memories and things Benny and I shared about my grandmother Edna Whatley Ferguson ( who outlived two husbands, God love her) and my Aunt Opal and my dad, Jim Whatley, well, this is the kind of stuff, ladies and gentlemen, that you can not put a price tag on, it's the real deal. We sat up, talking late into the night.
My other cousin, Shirley, Benny's older sister, drove from Mineral Wells to come and see her long-lost city-slicker cousin too. In Texas they say, "let me hug your neck," which anywhere else would simply be "let me give you a hug" and Shirley hugged me so tight and said, "Jeannie, I have thought about you, so many times."
This means a lot coming from a woman had more important things to think about, like surviving as a young widow with four little kids to raise after a reckless driver mowed down her husband as he worked on a Texas highway crew. Shirley worked in the box factory for years, but she's been a greeter at the Mineral Wells Walmart for the past twelve, getting by on the strength of her back, faith in God and family nearby. She lost a son, Gerald Wayne, to leukemia a few years back, but asks in a sweet voice if any of my kids have had to "go off and fight any of these wars?" Military service is considered an honor in these parts.
At dawn, I lay on my belly and looked out the window. I could see for miles and miles. It was a cleansing view. There is something so restorative about being reminded from whence you come, even if we all know, it wasn't biological.
Benny and Sue and I took the dogs for a walk, to see the "blow hole" which really looks more like the remnants of an earthquake! It was a natural gas explosion, years ago, which upended ginormous chunks of rock, huge beyond comprehension.
ARVE Error: id and provider shortcodes attributes are mandatory for old shortcodes. It is recommended to switch to new shortcodes that need only url
We toured the old house, with Sue warning, "Watch out for snakes, they like to get up in here" The house is in bad shape. Sad, I think, to Benny. Back outside, we walked past an a side yard, and Benny stopped, "I was thinking this morning, I don't know if you remember, but there used to be a hog pen over in that corner. But right here," he said, gesturing to scorched earth, "right here was this grassy area. It was probably the only place we didn't have cows, and Don and I used to play football out here." Benny and Don were only a year apart, first cousins, blood. We paused. There wasn't much else to say.
I took Benny and Sue's picture, she packed me a lunch, I patted the dogs and headed out.
I drove off, past the patch of brown grass and days of football past, down the gravel road past the ghost of Aunt Opal and Uncle Norman's house, on to the open highway, my soul expanded as far and as wide as the parched countryside.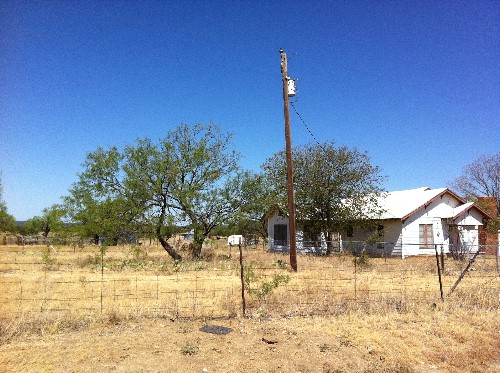 I had mattered to them. Made no difference who was my daddy, I mattered. And more importantly, they mattered to me. We shared a common bond. I had reconnected with family. Family,wow. They called her Granny, I called her Grandma and like Benny said, the grand kids who were around all the time, kinda got the short shrift — the city kids who only came out on weekends and summer time, got the royal treatment.  We laughed. Benny's gotten over it.
I'm driving along, thinking about how fortunate I am to have experienced this. How much I love, truly love this place, despite my mother bitching and complaining about it all my life,  when I come across this sign."Jean."
And the very next sign I see is for "Kindley Park." Now, you might pronounce it with a short "i"  like kend-lee park, I took it as a command. "Jean, kindly park."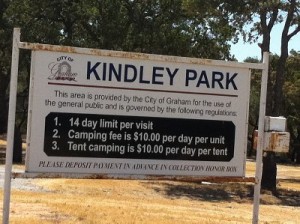 I did. I pulled over at Kindley Park to think, to reconsider, to make my peace with Jim Whatley. I told him I was sorry for calling him a son-of-a-bitch. My grandmother would turn over in her grave and she didn't deserve that. Neither did he.  Seeing "Uncle James", the WWII vet, Pearl Harbor survivor, seeing him through the eyes of my cousins,  took the hard edge off me. When kids are in the middle of a divorce, and especially girls, we tend to side with our mamas. And Garrett and I were thick as thieves, and anyone who picked on my big brother, was an enemy of mine. But as I have learned in this life, it's easy to demonize people, and Jim Whatley couldn't have caught a break from my headstrong mother if his life depended on it. People don't get divorced because they're in love.
I wrote a piece called "I Will, If You Will" a few months ago about my mom in which I gave her a lot of credit for doing the best she could with the tools she had to work with. Jim Whatley took me and my brother Garrett in, gave us his name and tried to make it work, again, with the hellcat who was my mother. He must have really loved her. I had never given enough thought to what it must have been like for him, to stick with her, with two kids who weren't even his. Wonder what my grandmother had to say about that?
He had his faults. Don't we all? He could be mean sometimes. He drank too much, he'd tell me he was going to work out in the garage and sneak down the alley to the beer joint on the corner, leaving us kids home alone. We survived. And sometimes in life, we're afforded opportunities to evolve, to transcend frozen narratives in our minds, to make amends.
"Jean. Kindly park." Well, okay. If that's not a sign from the universe, I hope to kiss a pig. Jean, kindly reconsider.  I'm reminded of a great Warren Zevon song, "Reconsider Me." Okay, Jim Whatley, here is my song to you:
Thank you for the good times. I am grateful for your mother, my Grandma Edna, the woman who taught me so much and whom I loved very much. I am grateful for my Aunt Opal, I loved her very much. I am grateful for my cousins, my real cousins.
Thank you for my brothers, Don, J.R. and Paul, and thanks for giving Garrett and me your name. I know you did the best you could with the tools you had to work with. I hope you're in a good place, I'm heading to Albuquerque. Peace out.