Carrie Fisher was the host of Saturday Night Live that night. The Blues Brothers did Soul Man. It was a nice diversion while it lasted, seeing how I was in the grips of labor with my first baby, a paltry four or five centimeters, or some ridiculously insufficient degree of dilation to get the job done. Carrie came back out on stage, linking arms with Gilda, Jane, John, Bill, Garrett, Dan, and Lorraine. These were the glory days of SNL. Lorne Michaels came out. The director cued the closing song, with it's signature, smoky sax, suggestive of all things black nylons, men's cologne and New York city cabs. Sweet and sexy, "up and out, roll the credits in five, four, three, two…and we're out."
The baby wasn't. I cried. Son of mine had not made his debut in time for the curtain call.  I was trying so hard to give birth before midnight, so that my first-born would share the same birthday as my beloved sister-in-law. But no, it would take three more hours of hard work before sonny boy would arrive on the scene, my first lesson in how children have their own ideas about things.
I'm grateful now, that I wrote down a few ideas of my own, just a couple of days before he was born. It was an unseasonably warm November day. We were living in Virginia Beach then, my husband in the Navy. I'd taken a long walk along the Chesapeake Bay, trying to nudge my womb into bidding a fond adieu to its little charge. The beach was wonderful; bright and breezy, the sun further from the south, intense. It was quiet, near empty, save for the locals walking their dogs and a 23-year old girl, eager and scared. I was walking and thinking, thinking and walking, looking out over the choppy bay. I lay down in the cool sand, heavy hips and heels leaving an impression. I hiked up the home-sewn maternity blouse over my belly, exposing it to the sun, his prenatal nest, a greenhouse now.
What will you be, my mystery child?
Rolling about in your sea of seclusion,
I know you not, but love you already.
Soon you will breathe the same air that I do
and begin your journey away from me.
Today, on his birthday, I just want to thank him, well for a lot of things, but mostly, for never taking the easy way out, for having the courage of his convictions, as my mother would often remind me, and for being the stand-up son, oldest brother, husband, son-in-law, loyal friend and decent human being that he is. And he is. As parents, really, when it all comes down to it, all we want is for our children to become decent, contributing members of the human race, blessed with the capacity to love, show compassion, reason –and to possess enough self-respect to believe that their lives are precious, one of a kind, worthy of dutiful care so that they might flourish to their highest potential.
Well done, Nathan, son of mine. I love you so. Apparently, so does your lovely wife.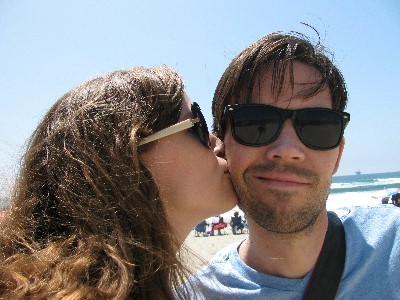 Here's a short excerpt from Off the Leash, Chapter 12, I Know About You.
Nathan is my firstborn. There's something about that, the
person who introduces you to motherhood. It is a unique pact, a kind of
mutual understanding, a different level of regard.
                                                                                            
"Hey, I've never done this before," says the young mother as she looks down
at this warm, soft creature with the heavenly fresh-from-the-womb scent,
which is even better than the aroma of freshly-baked bread.
"No worries; I'm new too," the infant replies as he leans his fresh-milled
cheek toward tender breast, instinctively rooting for survival.
Nathan probably saved me. He doesn't know that. I'd be the first to admit
there are millions of examples that repudiate this assertion, but at least for this
mother, the instant I knew I had another life to account for, any predisposition
for self-destruction quickly vanished. I was unwilling to allow any of my babies
to ever become collateral damage.