Suffice it to say a book about an eight-week sojourn across the country with nobody but a dog contains a lot of self-reflection. Was thinking about that this morning, when I was noticing how the early morning light creates interesting shadows and contrasts, something I can indulge in as a gainfully, unemployed writer.
This immediately made me think of this day last year, and my pleasant stay at the EconoLodge where I went into somewhat of a significant tailspin of remorse over having bailed from the job, heightened by a lonely Sunday eating take-out in my motel room after I'd fetched it from the Cracker Barrel where all the normal people were.
Here's a photo of my poolside view.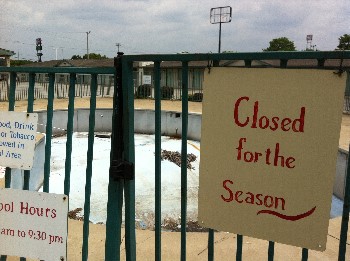 And then, left to your my devices, the crazy person who took off on a less-than-perfectly-planned-out-adventure, falls prey to complete self-absorption…
…and eventually has to be rescued by the men with the motorcycles. Thank God.
 Here's an excerpt about that day from Off the Leash —
The parking lot at the EconoLodge was empty when we got back. Absolutely empty. Ours was the only car. They'd moved on, the bikers. It made me feel strange. They'd moved on, I was left behind, off the track, off my pace, not moving forward, off the grid. How can you miss a bunch of Puerto Rican bikers you just met thirty minutes ago and suddenly be left with too much time to travel to those spongy spots in your mind, which have never really been fully drained of all the hurtful pus that keeps you feverish? I felt naked and alone. I'm sitting there in run-down motor court, eating out of a plastic box, with plastic utensils, where the pool outside has a foot of stagnant water and a sign which says "closed for the season" but you know it's been closed for much longer than that. You're thinking about the seasons in your life. You've taken a dive off the deep end by abandoning your old life because you're afraid that time is running out and your faithful pup, the canine who keeps you from toppling over the edge of insanity, is just hoping you'll drop even one morsel of chicken on the worn-down rug as you're asking yourself, "How in the fuck did this happen?" These are the necessary things, these questions. Questions you ask when nobody else is in the room but you, the sun going down, casting hard-edged shadows on the cheap, blonde pressed-wood TV armoire, where my silhouette has been splashed, in vivid black and white: my nose, my cheekbone, the shape of my hand which holds my head. I raise myself up and take a photo, a self-portrait of the shadow of my doubt.
So, I'm trying to track down my biker buddies. I'll let you know what I find out.