Off the Leash — it ain't the money, the possibilities of the future or even the idea that tomorrow can be better; it's the belief that now is the time to live.

Paul Frisworld
Riverfront Times
… a tell-all memoir told with beauty and insight, honesty and grit. Her midnight window staring is poetically explained: "When fiery dreams burn up our beds and spring us to our feet …." She illuminates the common "I can't do this anymore" as a longing "so deep that to ignore it would be like leaving a baby in the road." And she occasionally swears like a lumberjack.
Steve
Los Angeles
Jean Ellen sees even trivial circumstances as a sign of hope, without seeming unrealistically Pollyanna or saccharine, and she does this all while maintaining her very real, very human voice.
L. Lee Star
Saturday Writers, Missouri Writer's Guild
You'll feel yourself considering your own life–the ups and the downs–believing that life is beautiful and it is hard, but always worth living. There were so many times I found myself chocking down tears or laughing at Jean's raw and attentive view of the world. Read this book.
Lucille Zimmerman, Counselor, Author, Teacher, Littleton
CO
Everyone can learn something from this book, be free to follow your heart. Speaks to everyone, no matter your background!
Julie
A truly inspirational tale of a woman risking it all for a shot at true happiness. This is a story that ALL can relate to. It will make you laugh it will make you cry and most importantly it will make you appreciate the love we have for our dogs!
Ellen
…This is a story of secrets, unbelievable betrayal, truth, memories, regrets and self-discovery…Libby, her canine companion was along for the ride. Readers will feel as if they are riding shotgun. Warning: fasten your seat belts. A five star book!
Linda O'Connell
This is such a wonderful, inspiring book with all the heartache and real life stories. It should inspire all of us to follow our dreams. Thank you so much for laying your life out there so everyone can see. It has to ring a bell for a lot people struggling through their own lives.
Bev
New Mexico
Brilliant! I laughed. I cried. This is real life in America, Jean. You're becoming my 21st century Steinbeck.
Michael, Houston
TX
Your writing is addictive, I just hope it's not fattening!
Sue, Graford
TX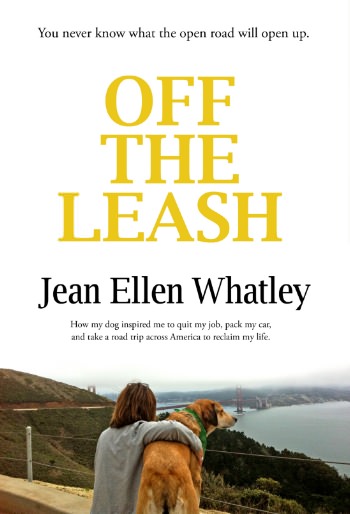 Jean Ellen Whatley's
new memoir
OFF THE LEASH
is about freedom
Not asking permission. Risking everything. Heeding messages from the universe to change your life.
A triumph tale about a woman, who grabs her dog, jumps in the car and goes for a little spin across America to revive her life.
She needed a defibrillator as big as a nation.
It's about breaking free from thinking our lives are predestined to be hard, or sad, or screwed up. It's about having the courage to listen to our gut, no matter the risk.

It's about our connection to other people and how precious little time we have to tell them we love them or thanks for the hamburger; sometimes in the same breath.
You'll laugh, you'll cry, you'll see yourself in this deeply personal, sometimes comical, always edgy, but ultimately inspirational memoir, which lovingly reaffirms that at the end day or the end of our journey, we're all in this together. 
You don't need to own a Kindle device to enjoy Kindle books. Download one of Amazon's free Kindle apps to start reading Kindle books on all devices. The Kindle app is available for every major smartphone, tablet, and computer.