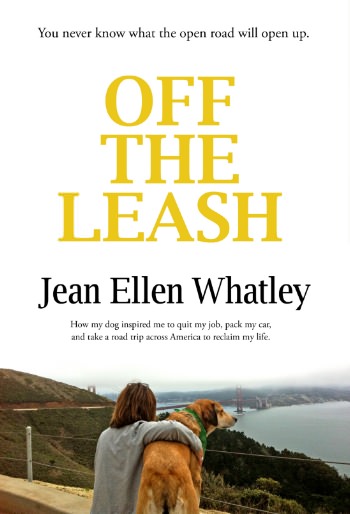 Jean Ellen Whatley's
new memoir
OFF THE LEASH
is about freedom
Not asking permission. Risking everything. Heeding messages from the universe to change your life.
A triumph tale about a woman, who grabs her dog, jumps in the car and goes for a little spin across America to revive her life.
She needed a defibrillator as big as a nation.
It's about breaking free from thinking our lives are predestined to be hard, or sad, or screwed up. It's about having the courage to listen to our gut, no matter the risk.

It's about our connection to other people and how precious little time we have to tell them we love them or thanks for the hamburger; sometimes in the same breath.
You'll laugh, you'll cry, you'll see yourself in this deeply personal, sometimes comical, always edgy, but ultimately inspirational memoir, which lovingly reaffirms that at the end day or the end of our journey, we're all in this together. 
You don't need to own a Kindle device to enjoy Kindle books. Download one of Amazon's free Kindle apps to start reading Kindle books on all devices. The Kindle app is available for every major smartphone, tablet, and computer.