Saturday morning, looking for shorts to wear to the high school track where I've been rehabbing, my hip, not the track, I come across the tennis skirt I bought last July at the Sports Authority Final Clearance Sale. The tag is still on it. Smiling, I get it out of the closet and step into its crisp, white, pleated perfection, pulling it up over my spider-veined legs with a darling new tattoo at the top—a five inch scar on my right butt cheek.
Skirt is cheeky, tad bit snug. Don't recall how deeply I might have sighed in the dressing room in the middle of a doomed Sports Authority, amidst the aroma of unsold basketballs. So much merch—so little time left to move it. I didn't realize my days were also numbered—both with a busted hip and a failing relationship. The stress fracture was just waiting to announce itself via MRI that it had snaked across the top of my femur. The relationship would need the perfect mix of margaritas and a chokingly hot, August night to blow a hole through the haze of our discontent. No clairvoyant I, the Prince tennis skirt, at 75% off the suggested manufacturer's retail price would be going home with me. I strode out of the store, thinking I had tennis matches yet to come with fave opponent; the tall dude with the bandana around his head.
Nope and nope. No tennis, no dude. Within three weeks I was on crutches, a month later, the relationship was simply amputated. Ah, but come this bright June morning, here again is the skirt. I had forgotten about it. I am wearing it now, and by God, I feel downright bouncy! There is spring in my step, a newfound nimbleness and yet, I have no reason to feel this way.
I should be completely panicked because I ain't got no job. My wonderful mainstay client for the past few years is tightening their belt, cutting their consultants loose. After thousands of emails, hundreds of newsletters, scores of PowerPoints, dozens of video productions, and countless conference calls using the word "intentional" they said, "we've consulted our accountant and we've been consulted enough. Thank you for your services."
Ooof. Let me repeat. Ooof.
But, I'll bet you dollars to donuts that many of you have been through this same scenario. I don't know about you, but my first reaction to realizing my paycheck days were running out, was to immediately go online and skim through the wedding photos of Pippa and her lovely husband James. They are both too thin, lovely, but thin. I found it endearing how the Duchess attended so lovingly to her sister, even if Kate's peach-colored ensemble was a bit dowdy. The royal kids made up for it.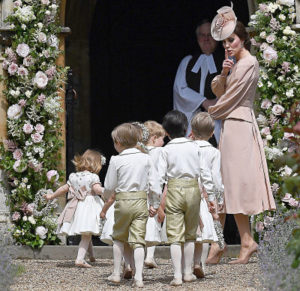 After that brief detour to fantasy island, I immediately got to work, figuring out my strategy: more consulting? replacement clients? a job-job? something in academics? Oh, and how about that writing career? So many fronts—so little focus.
I lob this angst over the net in search of solidarity. Does job security exist anywhere anymore? My temporary tumult notwithstanding, there is so much other stuff to be uncertain about right now. Where oh where to put a stake in the ground? Climate issues, while we still have land above water? Foreign policy? Can somebody please stick a sock in his mouth? Healthcare? Which I'll probably have to pull the plug on, before the Republicans do.
Against this backdrop of impenetrable ponder, I take solace in a couple of things: if we can all simply survive Trumpdom, as things turn out, older workers, even though we might not still be hot, are a hot commodity. Say what you will about ageism, but the fact of the matter is, the U.S. economy needs us to keep totin' them barges and liftin' them briefcases. According to the Bureau of Labor Statistics, there are nearly twice as many people 65-plus in the workforce than there are teenagers, something like eight million gray-haired people (well, the women still color their hair) to four million orange-haired people. By the year 2020, 25 percent of the entire U.S. workforce will be 55 years or older. It's all about the pipeline, not enough of these youngsters back filling the pipeline. Meantime, the oldsters are hedging their bets or merely paying down their debts by plugging it up for as long as they can.
We live in interesting times. There's an entire consulting industry now, teaching organizations how to manage five generations rummaging around in the break room fridge. Apparently it's a bit of a challenge to cross these generational divides to get everyone pulling in the same direction. But here's an interesting factoid: baby boomers tend to be the most competitive. In comparing key characteristics of all the generations from Z (this is the cohort after the Millennials also known as the 16-year old who says "no problem" when be bags your groceries, as if it should be a problem?) to the Silent Generation (folks who were born in the late-20s to early-40s who are righteously pissed off because they're STILL working, but remain stoically silent) Baby Boomers, of which I am smack dab in the middle, tend to be: hard working, goal oriented, competitive, non-conforming, independent sons-of-bitches who like nice things. Okay, so we are also being blamed for ruining the planet (which I think started LONG before we got here) the point is, there is something to be said for knuckle-headed determination.
I'm in it to win it. I've got the best titanium hip that $39,000 can buy and a mighty-fine, Prince tennis skirt. Actually, it's a tad bit obscene. But you get to a certain point in your life where you just don't care what other people think. Forget the track, I'm heading back out on the court again. I've been playing tennis since I was sixteen years old. I don't have to go after every baseline shot anymore! I'll play up. I'll play smart. Now is not the time for timidity.
Set back. Set point. Smash.