I took it as a sign, the special exhibit at the Metropolitan Museum of Art when I was in New York in May. I trotted up the stairs to the Met and smack dab in front of me was a huge banner with this painting by Caspar David Friedrich, (1774-1840.) I was at that pivotal point with Off the Leash, should I stay or should I go?
I ran to see the exhibit, "Rooms with a View: The Open Window in the 19th Century" and this painting stopped me in my tracks. I felt myself breathing, I mean, really breathing, like I had not drawn a deep breath in months.
I learned that Friedrich was Germany's most important Romantic painter at the time and fond of placing pensive figures in the foregrounds of his landscapes, this one a young woman looking out over the river Elbe, yearning for something, someone, out there.
I have been feeling this way for years — this longing, you know. Looking out the window, pacing, thinking that what I needed to quiet the voices in my head hovered out there somewhere. Out there, somewhere, like a low-lying fog, that if you could change the substance from vapor to cotton candy, you just might be able to grab what makes you whole.
Winter, summer, front yard, back — whether I stood in the bedroom, studying the ice-wrapped holly branches, green, brilliant red, dazzling in their diamond-luster cocoons in the low morning sun, or humid, hazy, late-summer gazes out into the backyard, locusts buzzing, weeds mocking; lamenting that a good time to go would be right after deadwood the trees, paint the tool shed and restore the flower beds to some semblance of decent order, that might be an acceptable time to set myself free. Where does this come from, this longing?
It's not that I don't love my house, I do. I have an abiding affection for this place, so much, that if it wasn't against city ordinances, I'd be buried out back next to Bill Biggs' dogs. He's the man who sold me this place, ten years ago, this summer. In some ways, it will always be the Biggs' place, it's got his brand on it. Literally.
Biggs was a Missouri-born and bred, manly man who spent his teenage summers as a cattleman on a family ranch in Colorado. The ranch brand is burned into the wood on my deck out back, much in the same way you'd brand a calf. I made sure to protect it, when I refinished the deck last year, because Biggs is gone. To say it is a tragedy that Bill Biggs was murdered, in the 2008 City Hall slaying in the neighboring township of Kirkwood, Missouri, is, well, you just can't describe what a loss this is.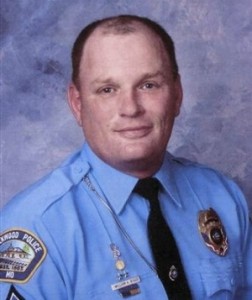 Bill became a cop after he'd been a rancher and a soldier, husband, father to two sons, and sadly, a policeman who was simply in the wrong place at the wrong time on a pizza run in the parking lot of City Hall when a crazy man with a gun got the drop on him. Six people died that night, the gunman included. The kids and I still think about Biggs and how he changed our lives. There were two other offers on the same day I made mine, but Bill told the realtor he wanted to sell his house to me — a cash-strapped single mother of four, in love with this house because it reminded me of home.
And I love it even more now. Now that ten years of our lives have branded it in our own way. I love every creak of the floorboard, the way the iron gate in the carport squeaks, always a good thing since it's next to my bedroom window. Biggs told me not to oil it, so I could hear if the kids were trying to sneak out!
I love the seasonal rituals;  opening the attic windows in the summer, closing them in the winter, the place we plop the tacky plastic Santa in the dormant flower bed by the front yard every year. I love the way the house smells after rain, well, except for Sean's room or the basement drain. I love this house and all the other humans and animals, (except for the mice) who inhabit it with a fierce passion. It stands for something. It stands for us. Reporting for the duty of life for the past ten years. A decade! I have lived in this house longer than I have ever lived anywhere in my life! A decade! We were all so innocent then, my babies and me. So much has happened.
Revealing isn't it, how I've gone from feeling trapped, to clingy. When you're getting ready to leave a familiar place, it becomes more precious. I've had this urge to stick close to home. I've been going around patting things-  the way you'd pat a kid or a dog on the head. Patting and praying — to the dishwasher, the air conditioner, the oven, the washer, the furnace, " please keep going, okay? Be good until I get home, okay? I love you." Okay, I'm a crazy woman, I understand.
And soon, I'll be on the outside looking in. I've been equally seduced by that point of view — a voyeur, a traveler, an interloper passing through someone else's reality, stealing inquisitive glances through their open windows — the lamp goes on, the kitchen buzzes with the sounds of supper, people move about, the din of noise and blue light spill from plasma altars, and then settle for the night, dishwashers hum, dogs quiet, lights out. Where will I be? What will I see?